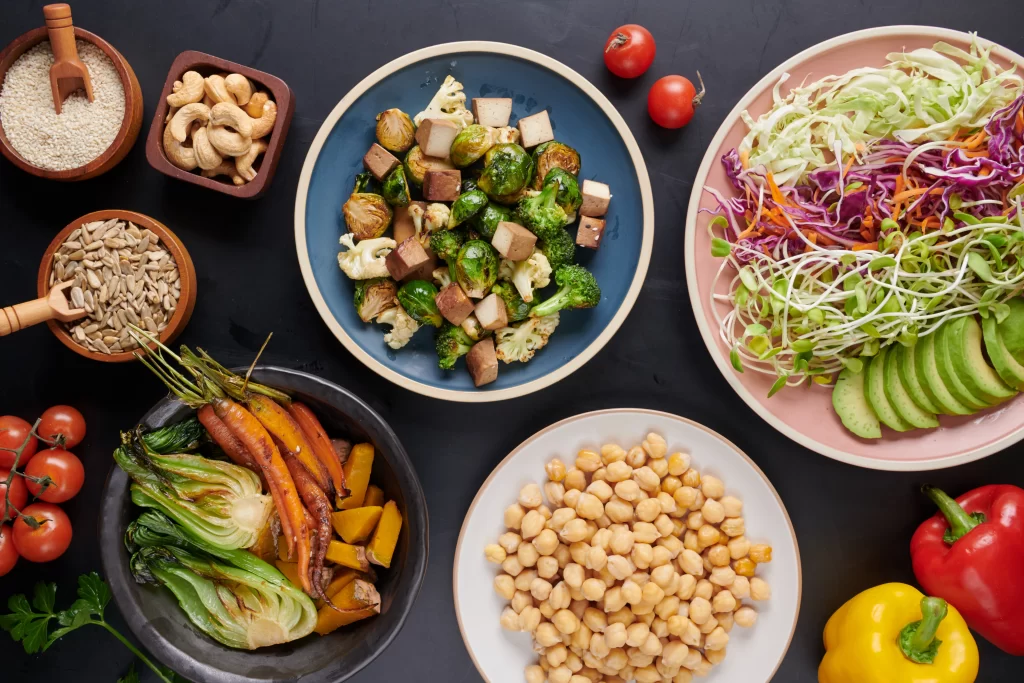 Interest in plant-based diets has significantly increased in recent years, making it a popular choice for many. A diet rich in plants emphasizes the consumption of mostly or entirely plant-based foods, which offers numerous benefits for both health and the environment.
By following a diet rich in plants, one can consume a variety of fruits, veggies, nuts, oils, seeds, legumes, beans, and whole grains. Some people may choose to limit their intake of animal-based foods, such as meats, fish, and dairy products.
Overall, a plant-based diet is a healthy and a lasting approach of eating that offers numerous benefits for both individuals and the planet.
Note: Including a quality plant-based protein, such as pea protein, in your diet can be helpful since being able to get enough of complete protein can be challenging on a diet rich in plants.

Benefits of a plant-based diet
Consuming a diet rich in plants can benefit the body in numerous ways. Studies have shown that it may reduce joint pain and lower the risk of cancer, among other benefits discussed below:

It may keep your heart healthy
A diet rich in plants usually entails eating reduced saturated fat and increased unsaturated fat and fiber, which is highly beneficial for heart health. It may also help reduce the risk of cardiovascular disease, obesity, type 2 diabetes, and high blood pressure.
Additionally, studies have revealed that consuming fruits and veggies may decrease the risk of stroke. Another study found that following a diet rich in plants can lower the risk of all-cause mortality by 25%.
It can improve gut health
Eating a diet rich in plants can promote your gut with healthy bacteria, which can increase your overall gut health and it can control your appetite. With this diet you can also meet your daily advised amount of fiber easily.
Plant-based diet could help you lose weight
Increased plant consumption has been found to aid in weight loss or weight control, and according to studies whole grains and veggies are relatively low on the glycemic index, and fruit contains antioxidants and fiber, which helps prolong fullness.
Plant-based diet may Improve your cholesterol
A diet rich in plants can help keep cholesterol levels in the normal range, and it can lower bad cholesterol (LDL) by 10-15% compared to animal-based diets.
It may help prevent type 2 Diabetes and improve kidney function
Studies found that eating a diet rich in plants with high-quality plant foods reduced the risk to get type 2 diabetes by 34% because plants are lower in saturated fats than animal foods.
Plant-based diet may keep your brain strong
Fruits and veggies are rich in polyphenols that could perhaps delay the development of Alzheimer's disease and may help reverse cognitive decline, and studies found that eating an extra 100 grams of fruits and veggies per day led to a 13% reduction in the risk of cognitive impairment and dementia.
Benefits of a plant-based diet on the environment
Meat and dairy products are connected to more greenhouse gas emissions than other foods, while consumption of plant foods protects the environment, and it could lead to a reduction in greenhouse gas emissions ranging from 17% to 29%, in addition to decreasing land, water, and fertilizer use.
Delicious recipes to get started!
The following recipes can help a person get started with a plant-based diet:
Breakfast
Rolled oats with walnuts, banana, and a sprinkle of cinnamon.
Whole-wheat English muffin topped with fresh tomato and avocado slices, and blueberries.
Apple cinnamon baked oatmeal.
Almond, wild blueberry, and flax smoothie.
Tofu scramble.
Lunch
To have Lunch with a plant-based diet:
Tomato basil soup, whole-grain crackers with tabbouleh, and an apple.
Tuscan bean salad.
Butternut squash soup.
Rosemary balsamic roasted veggies.
Dinner
Salmon with quinoa and roasted zucchini marinated with olive oil and lemon.
Whole grain pasta with roasted tomatoes, spinach, garlic, and onion, mixed with tomato sauce.
Quinoa salad.
Cauliflower pizza.
Dessert
½ cup of sorbet topped with 1 cup of tropical fruit salad; mango, pineapple, and melon.
Apples with almond apricot sauce.
Dark chocolate covered with fruits.
Peanut butter bites.
Snacks
Peanut butter banana protein bars.
Hummus.
Salt and cinnamon kale chips.
Fresh fruit with almond butter or a handful of nuts.
Carrots with ranch dressing.
Tips for getting the best of a plant-based diet
Drink a milk alternative such as soy milk, almond milk, rice milk, which contain both calcium and vitamin D.
Eat plenty of dark green leafy lettuce and beans which contain calcium.
Eat mushrooms and fortified cereals which contain vitamin D.
Includes enough protein by eating; beans, lentils, and split peas, quinoa, soy products like tempeh, tofu, soybeans, and soy milk, and nuts and seeds.
---
References: