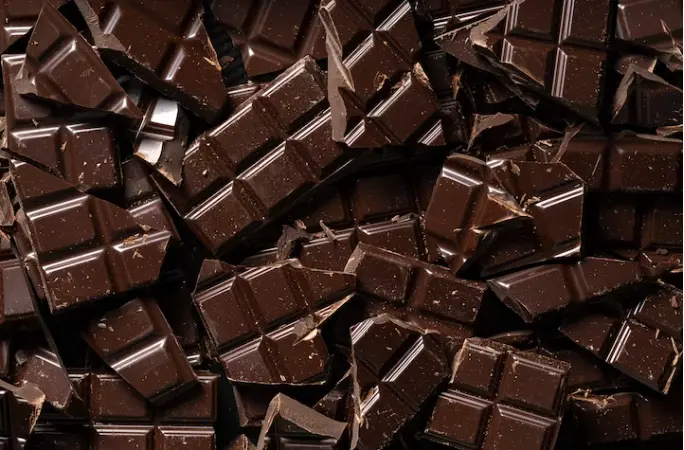 Dark chocolate often boasts a substantial portfolio that encompasses taste, health benefits, and even a slight mystique, making it an enticing ingredient regardless of consumption method. In this article, we explore the health side of dark chocolates, which almost sounds too good to be true and provide you with tips to help you pick dark chocolates of a quality that matches its stature in the food world.
History of Dark Chocolate
Dark chocolates has a fascinating long history, let us take you on a short journey of that history:
In 1737, Theobroma, the cocoa tree, was named Food of God, as they slowly discovered its many benefits.
Some of the recorded benefits found since the discovery of Cocoa range from calming agitation and restoring energy, to reducing cancer incidence, modern medicine has been skeptical of some of these benefits in the literal sense, but you can see how the fascination isn't something new or trendy, it's been there since day one.
In modern history, chocolate is known to be the main contributor to antioxidant intake, with the United States having it as the third product on the list of foods with antioxidants.
Health Benefits of Dark Chocolate
it offers plenty when it comes to biological effects, such as:
help you up your exercise intensity.
help with IBS (Irritable Bowel Syndrome).
suppress your appetite.
help with Diabetes.
help with Anxiety.
and much more:
Antioxidative and Anti-inflammatory Effects
Studies have shown that dark chocolate can reduce oxidative stress markers and increase the mobilization of free fatty acids.
If you exercise intensely, your body will undergo increased oxidative stress, consuming it will improve the antioxidant state and oxidative stress response.
If you suffer from Irritable Bowel Syndrome, dark chocolates can modulate the microbial population of the human gut.
Cardiovascular and Metabolic Effects
A study showed that body mass for volunteers decreased as a result of appetite suppression after smelling dark chocolate.
Studies have shown that polyphenols found in cocoa influence diabetes development by increasing muscular glucose uptake and insulin signaling.
Cocoa flavonoids improve insulin sensitivity and reduce inflammation, notably in blood vessels and the liver.
Effect on the Nervous System, Mood, and Cognitive Function
Dark chocolate stimulates the nervous system and can benefit highly anxious individuals by reducing stress-related mediators.
Dark chocolates may boost cerebral artery blood flow, potentially ameliorating stroke and dementia symptoms.
Researchers have found that dark chocolates helps prevent Alzheimer's disease.
It is more than apparent Dark chocolates isn't playing around when it comes to health benefits. Studies and data weigh heavily on the side of positive side effects of dark chocolates consumption, and the scope is too wide, making it hard to encompass all benefits in one study.
Buyer's Guide
Data and science are building a strong case for more consumption of dark chocolate, add on top of the allure, not all dark chocolate is created equally, with an ingredient as processed as chocolate.You really want to pick the highest quality possible, which isn't easy, let's walk through this guide to picking the best dark chocolate, we won't discuss brands, but rather a composition.
Ingredients of Dark Chocolate
A lot of ingredients go into making dark chocolates, these include:
Sugar
They add sugar to dark chocolate to balance its bitterness. You won't find any without added sugar, so your best option is to check the ingredient list. If it lists sugar as the first ingredient, don't buy it.
Usually, higher percentages of cocoa have lower sugar content.
Additives
Milk and lecithin aren't necessary to make chocolate, high-quality dark chocolates is milk-free.
However, manufacturers often add milk fat for texture and flavor, and they also include lecithin as an emulsifier for texture. Both of these additives are not necessary, so you should look for products with minimal amounts or, better yet, none added at all.
Trans Fat
Absolutely avoid any brand that contains trans fat, it has significant links to heart disease risk factors, which would counteract dark chocolates' cardiovascular benefits.
Cacao Percentage
Cocoa percentages can be unclear, so let's try to demystify them. Dark chocolate is rich in antioxidants, which are linked to higher cocoa percentages, so look for higher than 70%; that means you guarantee more elements as well. Higher cacao percentages are also related to lower sugar content.
Processing
Dark chocolate might be too good to be true, but it comes with a small catch, the better it is, the more bitter it is, this is usually fixed through a process called dutching or alkalization, where it is treated with alkali, this changes the color and makes it less bitter, but at what cost? It reduces antioxidants, so essentially, you're buying dark chocolate that isn't dark chocolate. Don't purchase dark chocolate treated with alkali. Keep it bitter.
Conclusion
People of all ages universally like chocolate, and there are endless recipes and ways to consume it. If you choose the bitter, more alluring dark chocolate as your chocolate of choice, you will harvest benefits that sound like they're fantasy because no way they can be that good right? They can. History has proven that since its discovery, dark chocolate has held a unique stature in the food world. What are you waiting for? Go out, pick yourself the most bitter bar you can stomach, and revel in the euphoria that is dark chocolates.
((What About DATES))
References: