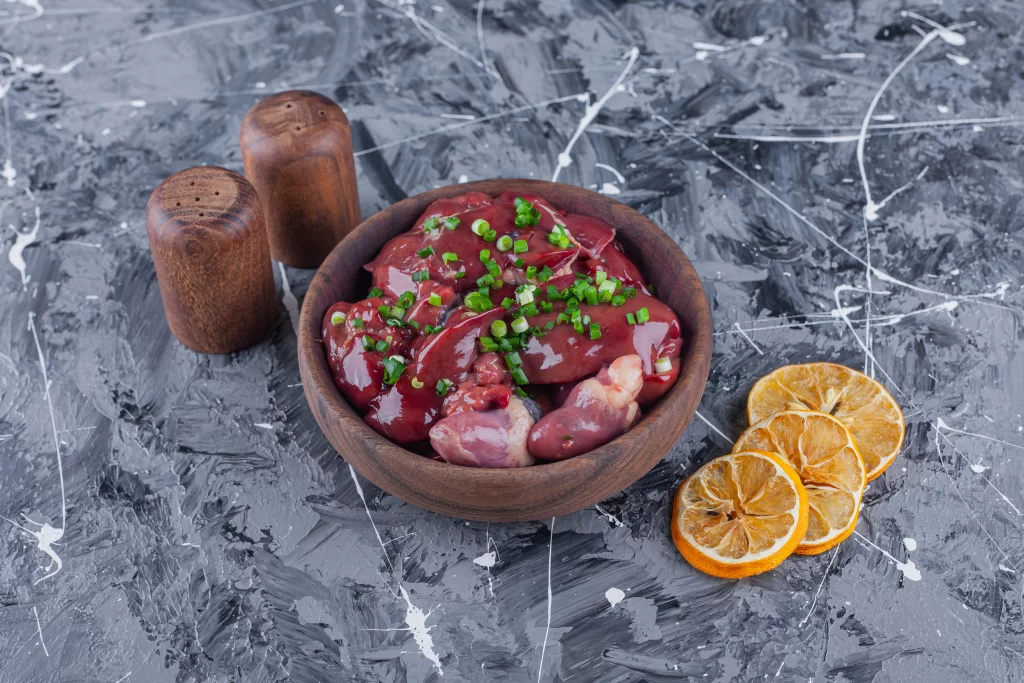 Consuming protein aids in improving metabolism, decreasing feelings of hunger, and building muscle. One of the sources of animal-based protein is chicken liver.
Why is chicken liver protein good for me?
Chicken liver contains high quality protein. It's a complete protein that's highly rich in the antiviral, anti-inflammatory amino acid lysine. In addition, it has great benefits for hair, skin and nails health.
Chicken liver nutrition facts
100g of chicken liver contains:
| | | |
| --- | --- | --- |
| Nutrients | Amount | % of Recommended Daily Value (RDV) |
| Calories | 116 Calories | 6% |
| Total Carbohydrates | 0 grams | 0% |
| Total Protein | 16.9 grams | 34% |
| Total Fat | 4.8 grams | 7% |
Other health benefits of chicken liver
Chicken liver provides many health benefits, including the following:
Natural Treatment for Anemia
It is a disease caused by an inadequate supply of red blood cells. Chicken liver contains iron, which can naturally treat anemia by increasing cells.
In addition to protein, chicken livers contain vitamin A. Vitamin B12, which regulates the production of red blood cells, is also present.
Helpful for body tissues
Riboflavin is necessary for the development of tissues and repair throughout the body, including the brain and blood. Riboflavin is 2.3 times more prevalent in chicken liver than vitamin B2.
Avoid Alzheimer's
Alzheimer's disease is a long-term neurological condition that affects memory, thought, and motivation.
People with Alzheimer's disease can benefit from vitamin B12 present in chicken liver because it helps them maintain memory.
Pellagra treatment
In addition to protein, chicken livers contain niacin, which can be beneficial for treating pellagra, a condition caused by a deficiency in vitamin B3.
Rich with nutrients
In addition to protein, chicken liver contains many vitamins and minerals, including:
Selenium: Chicken liver contains several minerals, including selenium, which has antioxidant properties and performs many functions, including repairing DNA and reducing the risk of cancer.
Vitamin C: Vitamin C is found in chicken liver, which supplies 47% of the RDA per 100 grams.
Iron: The iron in chicken liver helps maintain healthy blood cells.
Vitamin D: It contributes to supporting strong bones and teeth.
Zinc: Which is found in chicken liver, helps with vision.
Potential chicken liver risks
Despite the fact that chicken liver has health benefits, eating a lot of it can lead to specific illnesses, including:
High cholesterol levels
Because the liver has a high dietary cholesterol content, people who are trying to lower their cholesterol or who are using cholesterol-lowering drugs should eat it with caution.
Vitamin A toxicity
Doctors advise limiting intake to one serving per week because consuming too much liver might result in vitamin A toxicity.
Categories who cannot consume chicken liver
Even though chicken liver contain protein and has health benefits and, eating a lot of it can lead to specific issues. Categories of people who cannot consume liver include:
Pregnant woman
There are still risks associated with pregnancy due to high concentrations of vitamin A taken up by the liver, which have been linked to birth defects.
The exact risk cannot be determined without further investigation. Although there may be health benefits to consuming a small amount of liver during pregnancy, it is important to use caution.
People with gout
Gout occurs as a result of an increase in uric acid in the blood, and it may cause many symptoms, including Joint discomfort, stiffness, and edema.
The body produces uric acid from purines, which are abundant in the liver. As a result, if you have gout, it's necessary to restrict your intake.
____________________________________________________
References: