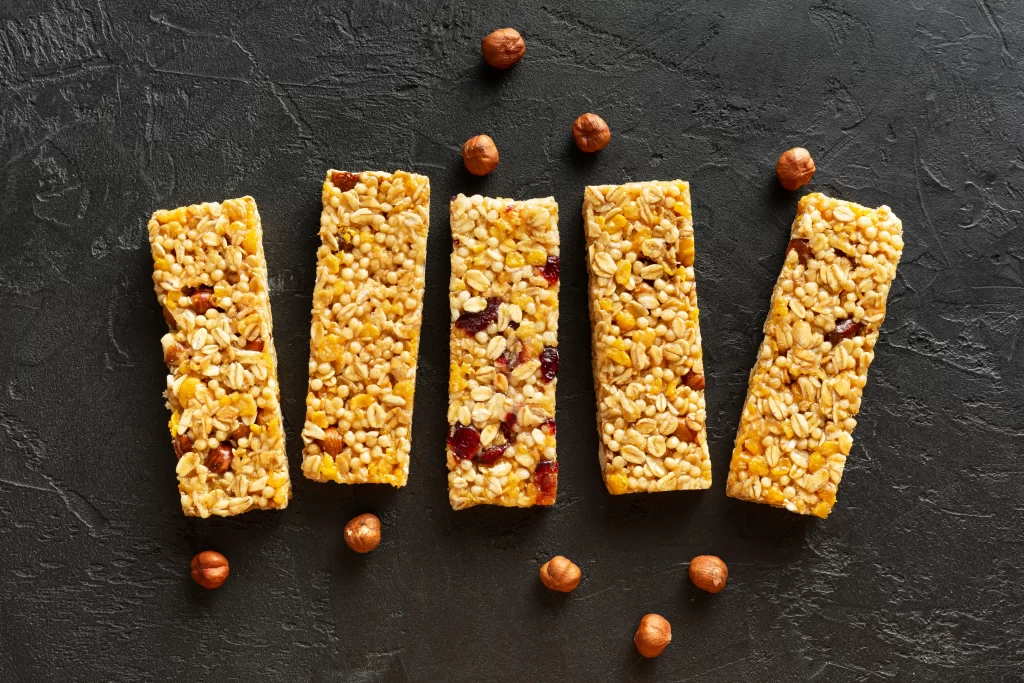 Protein bars are a good snack option, but picking the proper kind can be challenging due to the wide variety of options, some of which may be unhealthy and others that include high amounts of sugar and are unhealthy.
A complete buyer's guide for protein bars
There are a number of factors to look at before buying a bar, including the following:
Define the objective before beginning to buy protein bars
Determine your diet's objectives before beginning to buy protein bars, such as weight loss, building muscle, more energy, or better overall health.
You should pick a bar with a minimal amount of carbohydrates if you follow a low-carbohydrate or ketogenic eating plan.
You may choose a protein bar that offers the correct amount of carbohydrates for post-workout snacking.
The Nutrition Facts table for protein bars
Users should read the whole nutrition facts label, including the following details:
Protein
Depending on the fitness goal, a bar has a different amount of protein, for example: It is advised to eat more than 10 grams of protein if the goal is to recover from exercise, but 10 grams will be sufficient if protein is consumed as a snack in between meals.
Protein provides many benefits, including building muscles and keeping them full and satisfied longer.
Fat
It is advised to choose a protein bar with 5–10 grams of fat and check the ingredient list for nuts and seeds, which are sources of good fats that help with nutritional absorption and fullness.
Almonds, sunflower seeds, pistachios, walnuts, hazelnuts, and peanuts are some of the popular nuts and seeds found in bars.
Carbohydrate
The average bar typically contains between 10 and 30 grams of carbohydrates per serving, but athletes who engage in high-intensity or endurance activity should consume bars with a high carbohydrate content.
Sugar
It is advised to consume protein bars that don't include a lot of sugar, which will aid in controlling both blood sugar levels and insulin production in your body.
For this reason, we advise choosing a bar with no more than eight grams of sugar per serving.
Calories
People who want to gain weight may find that a bar with a lot of calories is a good option, but those who want to maintain or lose weight should avoid it.
We recommend that women opt for a protein bar with 140–200 calories and men choose one with 170-300 calories when using the bar as a snack.
Whole Food Ingredients
To receive high-quality protein, you should adhere to some guidelines, such as:
Selecting bars based on natural or whole-food ingredients.
Avoid bars that have artificial substances in them.
When selecting a protein bar, a short ingredient list is essential.
Select a bar without preservatives or one with a minimal amount of them.
Additional minerals and vitamins
It is advisable to choose a protein bar with additional minerals and vitamins, such as zinc, iron, and magnesium, as doing this could help in reaching your health and fitness objectives.
Identify the source of the protein
Avoid soy or collagen-based bars since they may create digestive problems and may not be effectively absorbed; instead, choose protein sources that are high-quality, rapidly absorbed, and utilized by the body, such as whey, casein, or pea protein.
When looking for protein bars, it is preferable to try a variety of types and tastes in order to choose the one that best meets your requirements.
However, it's important to recognize that consuming protein bars is a supplement to a healthy diet, not a replacement.

References