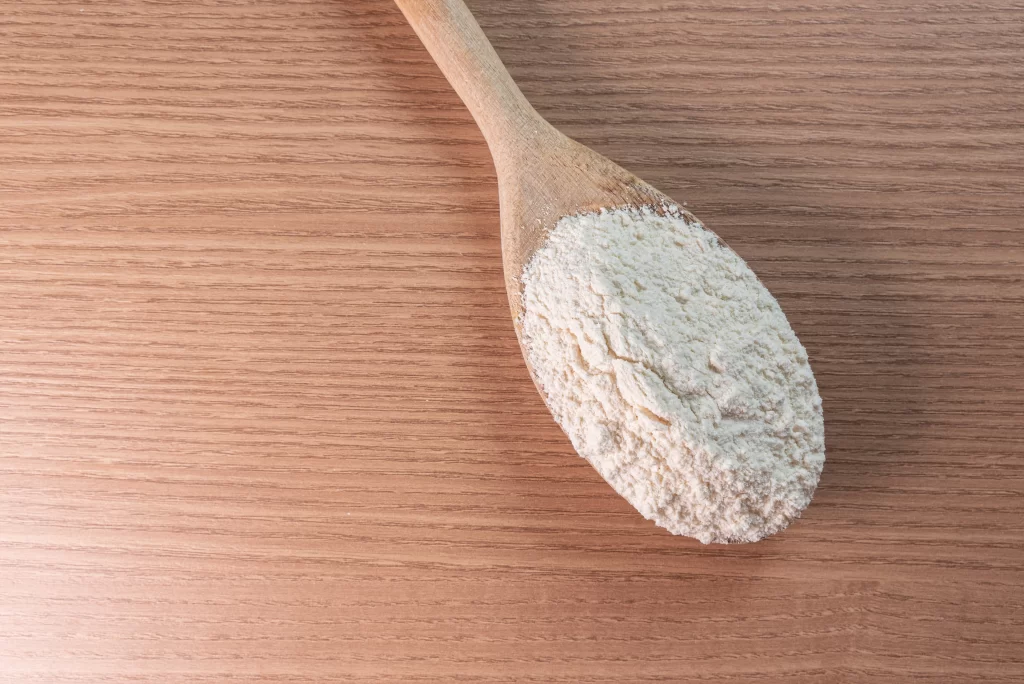 Tapioca starch and is classified as refined fiber.
Let's say Tapioca is a type of starch derived from cassava plant roots and is characterized by an odorless and tasteless white powder.
Tapioca possesses several desirable qualities, as it is both naturally vegan and free from grains, making it suitable for individuals following grain-free diets.
What are the benefits of Tapioca Fiber?
It has many health benefits, including the following:
Promote natural bacteria in the gut
by stimulating healthy gut bacterial growth Tapioca fiber helps prevent many diseases and enhances overall health.
Improve Gastrointestinal Health
As a soluble fiber, Tapioca fiber gives your stool volume, making it simpler to transit through your digestive tract, which can help prevent constipation and promote regular bowel movements. It can also help improve gut health and symptoms of irritable bowel syndrome, constipation, diarrhea, and other GI problems.
Reduces inflammation in the digestive system
It has been shown to have anti-inflammatory properties, and regular consumption can help reduce inflammation in the gut, which can decrease symptoms of digestive disorders such as irritable bowel syndrome and inflammatory bowel disease.
Weight Management
It helps you feel full sooner and prevents overeating. It is believed to have properties that help regulate blood sugar, which in turn helps in weight control.
Enhanced Nutrient Absorption
In addition to its advantages for gut bacteria, It will help the GI tract absorb nutrients from food more effectively.
Lowers bad cholesterol
Fibers in general, including Tapioca fiber, have powerful effects in lowering low-density lipoprotein (LDL), known as bad cholesterol, which in turn helps in lowering the risk for many health diseases, especially heart disease.
Nutritional facts about Tapioca:
Nutrition facts for 100g of Tapioca fiber: [3]
Calories: 70.5
Carbohydrates: 42.3 grams
Fiber: 42.3 grams
Protein: 0 grams
Fat: 0 grams
Sugar: 0 grams
Nutrition facts for 100g of Tapioca flour: [5]
Calories: 358
Carbohydrates: 88.7g
Fiber: 0.9g
Protein: 0.2g
Fat: 0.02g
Sugar: 3.35g
Tapioca fiber and food industry
Tapioca fiber and Tapioca flour are widely used ingredients in the food industry, including in the preparation of the following:
Gluten-free bread.
Grain-free bread.
Flatbread.
Gluten and Grain-free desserts and puddings.
Thickening agent in soups, sauces, and gravies.
Binding agent to improve texture and moisture, such as in nuggets and burgers.
Frequently Asked Questions
Is Tapioca fiber keto-friendly?
Yes, soluble forms is keto-friendly because it has zero net Carbohydrates.
Is Tapioca fiber safe during pregnancy?
Yes, It is safe when consumed in the normal amounts found in food. On the other hand, there isn't enough information to know if Tapioca is safe to use in larger amounts, so pregnant women should stick to the normal amounts found in food and not take larger contents.
Can Tapioca fiber cause any side effects?
It has the potential to cause bloating or gas for some consumers, but these symptoms usually go away with the regular use as the body adjusts to the increased fiber consumption.
In general, It is safe and well-tolerated. However, some people can suffer from diarrhea when consuming excessive amounts.
(WHAT ABOUT: Benefits of having a high-protein diet)
__________________________________________________________________________________________________________________________
References: