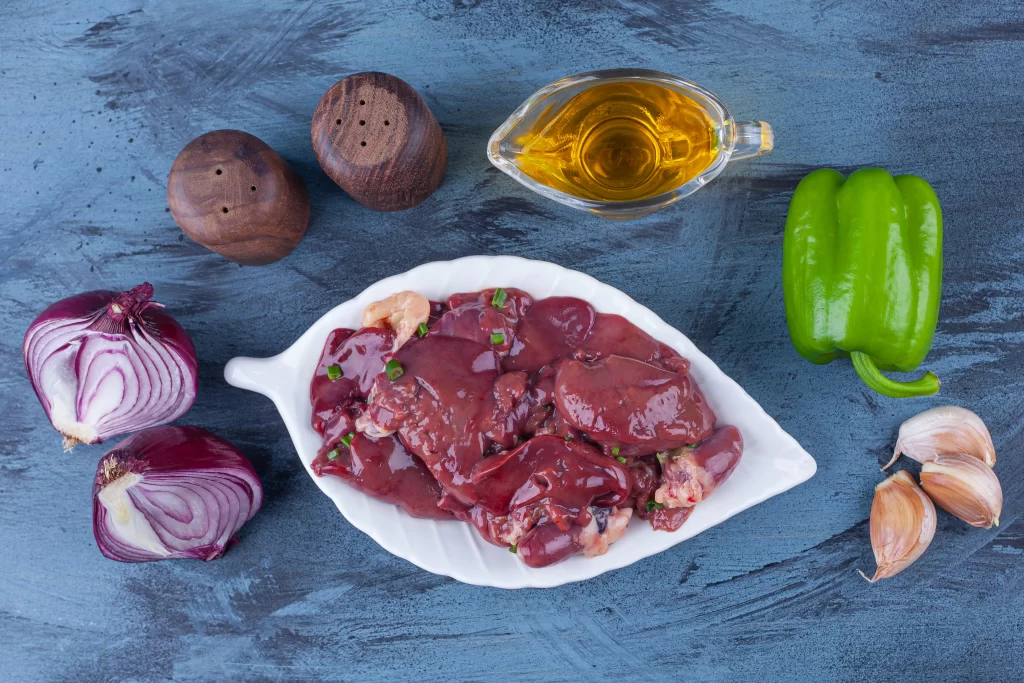 Liver can be popular due to its strong flavor and distinctive texture. Around the world, livers from a variety of animals are consumed. In your neighborhood butcher shop, fishmonger, or grocery store, you might discover livers from beef, calf, chicken, pork, lamb, goose, and cod.
Is Liver good for you?
It is considered healthy due to the following reasons:
Rich in nutrients
The nutritional profile of liver is outstanding. It is a great source of several nutrients. Here are the vitamins and minerals in beef liver:
B12 vitamin: DNA and red blood cells are created with the aid of vitamin B12. Additionally, it contributes to normal brain function.
Vitamin A: Vitamin A plays a crucial role in healthy vision, the immune system, and reproduction. It also aids in the healthy functions of organs, including the heart and kidneys.
Riboflavin (B2): The growth and function of cells depend on riboflavin. It also aids in converting food into energy.
Folic acid (B9): An important nutrient called folate is involved in DNA synthesis and cell proliferation.
Iron: Another necessary nutrient that aids in the body's oxygen transportation is iron. Heme iron, which is the type the body can absorb the easiest, is present in the liver.
Copper: Copper works as a key to activating several enzymes that then help control brain function, iron metabolism, and energy production.
Choline: For men and women, the liver provides virtually all of the adequate intake for choline. The development of the brain and the health of the liver depend on choline.
Supports Mental Health
Liver is one of nature's richest sources of vitamin B12 and has antidepressant qualities. A 2013 randomized control experiment discovered that vitamin B12 supplementation considerably reduced the symptoms of depression.
Supports Bone and Dental Health
Beef liver contains the highest concentrations of vitamin K2. K2 has been demonstrated to activate the osteocalcin protein, which in turn encourages the development of dentin, the calcified tissue found beneath the enamel of teeth. K2 also stimulates matrix GLA, a different protein that binds calcium to bones.
Anti-Cancer Properties
Vitamin K2 can lengthen survival time and decrease liver cancer recurrence, according to two clinical trials. According to a significant observational study involving 11,000 men, those who took high amounts of K2 had a 63% decreased risk of developing advanced prostate cancer.
Liver is a high-quality protein source
If it didn't provide a lot of protein, it wouldn't be your new favourite protein source. Around 172 calories are contained in 100g of chicken liver, with 100 of those calories coming from protein. As a result, it has fewer calories than 100g of chicken breasts while still having a higher protein content.
Supports Healthy Eyesight
Vitamin A (retinol), a fat-soluble antioxidant essential for good vision, is abundant in liver meat. Blindness could result from a vitamin A deficit because it dries up and tears the cornea and conjunctiva. Blindness may eventually result from the tearing and scarring of the eye. Consuming enough vitamin A-rich foods, such as liver, helps support vision and eye health.
Supports Cardiovascular Health
The elements in the B-complex vitamins are crucial for the health of the heart and blood vessels. To keep homocysteine levels low, it is especially important to take vitamins B6, folate, and B12. They aid in the methylation process and facilitate homocysteine-to-methionine conversion. If homocysteine accumulates, it can become hazardous to the body. In addition, the risk of cardiovascular disease is also increased by the associated low methionine levels.
Reduces risk of Alzheimer's Disease
Vitamin thiamin, sometimes known as vitamin B1, is abundant in liver meat. In fact, the liver contains the most thiamine of any meat. According to studies, thiamin can help reduce plaque formation and memory loss, two risk factors for Alzheimer's disease.
How Much Liver Should You Eat?
Eat one 100-gram serving of beef, lamb, bison, or duck liver one or two times per week, which contains about 50,000 IU of vitamin A. It is possible to eat chicken liver more regularly because it contains less vitamin A.
__________________________________________________
Sources: