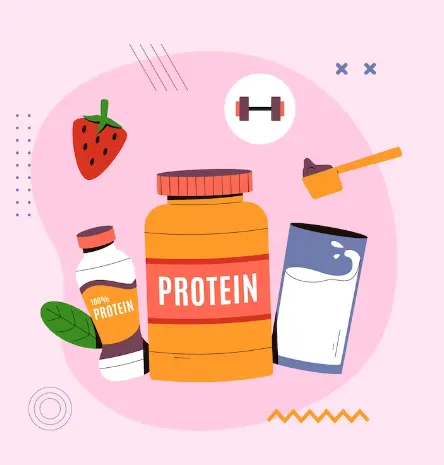 Protein smoothies and other protein supplements are widely available, but what types of protein are there?
Types of protein
Protein supplements that are most commonly consumed are:
Whey protein
Whey protein is usually used to increase strength and improve sports performance. It may also benefit those who are suffering from asthma, diabetes, weight loss, and many other conditions, Despite the fact that most of these advantages are not well supported by scientific evidence.
Casein protein
Casein is the primary type of protein in dairy milk, which includes milk from cows, goats, and sheep. About 80% of the protein in milk is made up of casein, and whey protein accounts for the remaining 20%. Casein protein provides all the essential amino acids, decreases muscle breakdown, and increases muscular mass. It also offers a reliable source of calcium.
Egg protein
Egg protein is a fantastic substitute if you are allergic to dairy products or do not like the flavor of whey or casein (Types of protein).
Using egg protein powder is not the same as eating eggs. First, while eating eggs, you either eat the full egg (yolk and white), skip the yolk, or skip the white. Egg protein supplements typically just use egg whites.
One fresh egg white contains 3.6 grams of protein, but one scoop of egg white protein contains about 25 grams of protein.
Pea protein
Yellow split peas are used to produce pea protein powder. The peas are shelled and then processed into flour after getting crushed. The carbohydrates and fiber in the flour are eliminated.
during the process, producing a paste that is then dried to create pea protein isolate. Pea protein powders typically contain a lot of salt because salt is required throughout the manufacturing process.
After a 12-week upper-limb exercise program, 25 grams of pea protein taken twice daily led to a larger increase in muscle thickness than a placebo. Between whey and pea protein supplements, there was no noticeable difference.
Hemp protein
The oil from whole hemp seeds is extracted, and the seeds are then ground into a fine powder to create hemp protein powder (Type of protein). The hemp plant is regarded as being very sustainable because of its extensive uses in the manufacture of fibre.
Although hemp contains all nine necessary amino acids, it lacks enough lysine to be regarded as a complete protein. However, it's still a high-quality plant-based protein.
Soy protein
The protein content in soy milk is 7 grams per cup, while concentrated soy protein powders can have higher levels. For people who aren't sensitive to soy, soy protein appears to be an excellent source of protein overall.
Rice protein
Although rice protein smoothies may be helpful for those looking to grow muscle and shed fat, rice protein does not contain all nine amino acids.
Researchers noticed that those who consumed rice protein smoothies after resistance training for eight weeks saw similar health benefits to those who consumed whey protein, including decreased fat and enhanced strength.
The study compared rice protein isolate with whey protein. Those who can't or won't consume protein derived from animals to support their exercise regimens might find this type useful.
Mixed proteins
All of the essential amino acids are present in animal proteins, making them "complete" proteins. In order to provide a full complement of amino acids, proteins derived from plants, including hemp, soy, rice, and pea, are frequently mixed.
The advantage of these blended proteins is that they are plant-based without compromising any of the essential amino acids that your body needs to develop muscle, boost immunity, and keep your heart healthy.
What types of protein are suitable for me?
Here are a few general guidelines, based on the goals you're looking for:
Types of protein build muscle
To aid in the growth of your muscles, select a protein powder with a high biological value. This value suggests how readily a protein is absorbed and used by the body. Whey isolate and whey protein are your best alternatives.
Types of protein Lose weight
To lose weight, select shakes free of dextrins/maltodextrins, which are starch-based sweeteners. Branched-chain amino acids (BCAAs) boost muscle building and weight gain, so stay away from items that have them added.
Different types of protein Stay vegetarian or vegan
If you follow one of these diets, avoid whey or other milk-based proteins and go for 100% plant-based proteins such as soy, pea, or hemp.
Go low-sugar if you have diabetes
Diabetic patients should avoid protein powders that list sugar as one of the first three components and instead go for protein smoothies without added sugar. Additionally, a shake with few carbohydrates (5–15 grams per serving) is the ideal choice.
Cut down on protein for kidney disease
People with renal illness should limit their protein intake since they cannot tolerate large amounts of protein at once. Select protein powders with a lower range (10–15 grams per serving) instead.
Avoid digestive symptoms
People with irritable bowel syndrome or lactose intolerance should select powders free of dextrins or maltodextrins, artificial sweeteners, or lactose sugars. If you have a gluten sensitivity or allergy, get gluten-free powders.
Stick to your budget
Protein powder tubs are lower cost and more practical than ready-to-drink protein smoothies, which are more expensive.
__________________________________________________
Source: