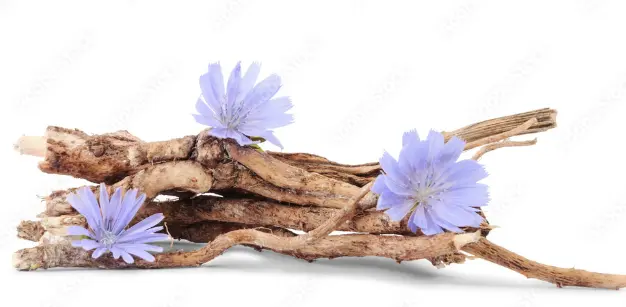 Chicory root (Chichorium intybus), a member of the dandelion family of plants with bright-colored flowers, is a source of inulin, a water-soluble fiber.
In some processed and functional foods, chicory inulin, which cannot be digested, can be used to replace dietary fat or sugar; it can also be utilized as a substitute for coffee.
It is also utilized for its nutritional, culinary, and medicinal properties. It is a good source of proteins, soluble fiber, vitamins, minerals, trace substances, and bioactive phenolic compounds.
The health benefits of chicory root
Chicory roots can offer several health benefits, including the following:
Has anti-inflammatory effects
Chicory root contains plant polyphenols that can reduce inflammation. Drinking caffeine-free chicory coffee for a week may enhance the production of red blood cells, lower inflammation, and protect against chronic illnesses.
It has an impact on thyroid function and a possible reduction of autoimmune disease symptoms, but more studies are needed.
Prevents liver damage
According to research, dandelion roots extract prevents the production of free radicals, oxidative stress, and cell damage, maintaining a healthy liver.
Chicory root are high in antioxidant content, effective at removing harmful free radicals, strengthening the body's defenses, and cleansing the liver.
Relieve constipation
Consuming 12 grams of chicory inulin for a month improved bowel movements, according to a study conducted on a group of people with digestive issues, including constipation.
This is because the inulin found in the fibers of the chicory root moves through the body undigested. It helps with proper digestion and feeds the gut bacteria.
Manage blood sugar
Due to the inulin in chicory roots fiber, which encourages the growth of beneficial bacteria and improves insulin sensitivity, it might be helpful to improve blood sugar control, particularly in those with diabetes.
According to studies, taking 10 grams of inulin daily can considerably lower blood sugar and hemoglobin A1c levels.
The nutritional value of chicory root
Chicory roots contain numerous nutrients crucial for human health. The table below lists the most significant nutrients in one raw chicory roots, weighing 60 grams:
| | |
| --- | --- |
| Nutrients | Nutritional Value |
| Calories | 43 (calorie) |
| Carbohydrate | 11 (g) |
| Fat | 0.1 (g) |
| Protein | 0.8 (g) |
| Fiber | 0.9 (g) |
| Sugar | 5.2 (g) |
| Calcium | 25 (mg) |
| Iron | 0.5 (mg) |
| Potassium | 174 (mg) |
| Sodium | 30 (mg) |
Side effects of chicory root
Most individuals can safely ingest this roots if they consume it in the average amounts found in food, although it can have a few minor negative effects, such as:
Abdominal discomfort.
Belching.
Bloating and Flatulence.
Bowel movements.
Precautions for using chicory root
Some special groups should be careful when consuming it, including:
Pregnancy and breast-feeding
Chicory could cause miscarriage in pregnant women if consumed in large doses.
While there isn't sufficient research to conclude that consuming chicory while breastfeeding would cause problems, it is advisable to consult with a doctor to avoid any unwanted side effects.
Ragweed allergies
Before eating chicory root, people with ragweed allergies should consult a doctor to prevent negative effects.
Gallstones
it is not Prefer to consumption Chicory for people who have gallstones because it causes the bile to produce more.
Despite the health benefits that chicory roots provide, we recommend that you check with your physician before using them and consume them at the recommended doses.
__________________________________________________
Reference