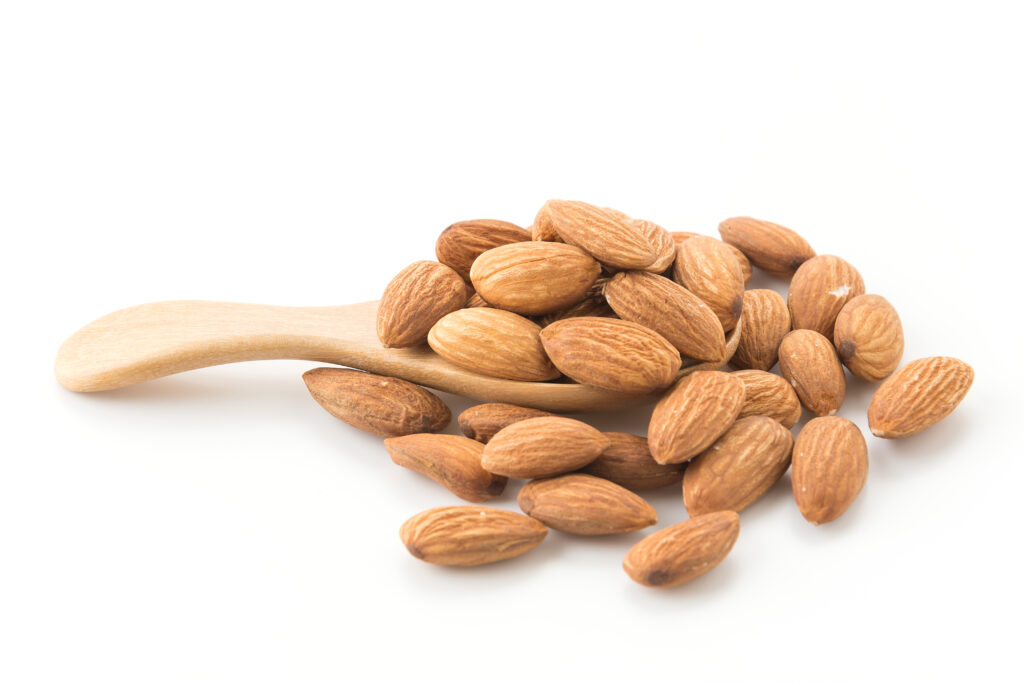 You can consume almonds as a low-carbohydrate, high-nutrient food, either raw or cooked. You can purchase them salted or unsalted, roasted, or raw. It can also be processed to produce almond milk, almond butter, or almond flour.(1)
Why should almonds be eaten?
Fiber, protein, healthy fats, vitamins including vitamin E, and minerals like potassium, magnesium, and phosphorus are all found in moderate amounts in Almond.
These nutrients are essential for many biological processes, such as:(2)
Growth of cells.
Energy synthesis.
Immune response.
Health benefits of almonds
including the following:(3)(4)(5)
Vitamin E and antioxidant-rich
Alkaloids, which help prevent disease and boost immunity, are rich in almonds.
They are also a good source of vitamin E, an antioxidant that helps prevent chronic diseases that may develop as a result of the accumulation of dangerous free radicals.
According to studies, people who consume a lot of vitamin E have a 30–40% reduced chance of getting heart disease.
Control Diabetes and Lower Blood Sugar
Almonds contain an adequate amount of magnesium, which is beneficial for persons with diabetes since it helps to control blood sugar levels, lowers the chance of developing type 2 diabetes, and also lowers insulin resistance.
Aid weight management
There are a number of reasons why consuming unsweetened almond milk may aid in weight loss, including:
It contains a few calories.
Provides dietary fiber to support regular bowel movements.
It contains monounsaturated fats, which help people feel full.
Avoid gallstones
The fat and fiber in almonds could help maintain healthy liver and gallbladder function, lowering the need for cholecystectomy, a common medical treatment, and eliminating gallstones.
Reduced cancer risk
According to research, eating nuts may lower a woman's risk of developing cancer, particularly colorectal and endometrial cancer. Studies have associated almond consumption with a 15% decreased risk of cancer for every ounce of nuts consumed daily.
The nutritional value of almonds
The following table shows the nutritional information for 100 grams of fresh almonds and dry-roasted, unsalted almonds, both of which are sources of numerous nutrients:(6)(7)
| | | |
| --- | --- | --- |
| Nutrients | Fresh almonds | Dry unsalted |
| Energy (calorie) | 579 | 598 |
| Carbohydrate (g) | 21.6 | 21 |
| Protein (g) | 21.2 | 21 |
| Fat (g) | 49.9 | 52.5 |
| Fiber (g) | 12.5 | 10.9 |
| Iron (mg) | 3.71 | 3.73 |
| Magnesium (mg) | 270 | 279 |
| Phosphorus (mg) | 481 | 471 |
| Vitamin B1 (mg) | 0.20 | 0.07 |
| Vitamin B3 (mg) | 3.62 | 3.64 |
Healthy ways to add almonds to the diet
including the following:(8)
You can add almonds to salads, either sliced or unsalted.
Add almond butter to toast or apple slices.
Use almond flour as a fish breading or in baked products.
Risk eating almonds
Almond consumption may cause some risks, including:(9)
Allergic reactions
Eating almonds may cause allergic reactions in some people, resulting in swelling and difficulty breathing, so it is advisable to exercise caution and avoid consuming them.
Choking
It is advisable to consume almonds with caution, particularly for children and the elderly who may be at risk of choking, as well as for people with dementia, Parkinson's disease, or other conditions that could lead to food entering the lungs.
Due to their health advantages, almonds are one of the evening snacks that may be consumed in the correct amounts, but caution should be used with some particular groups that might present certain risks.
((WHAT ABOUT: Benefits of having a high-protein diet))
____________________________________________________
References